Landmark agreement will provide appraisers, other professionals, unprecedented access to comprehensive real-time cash flow, comparables and other property data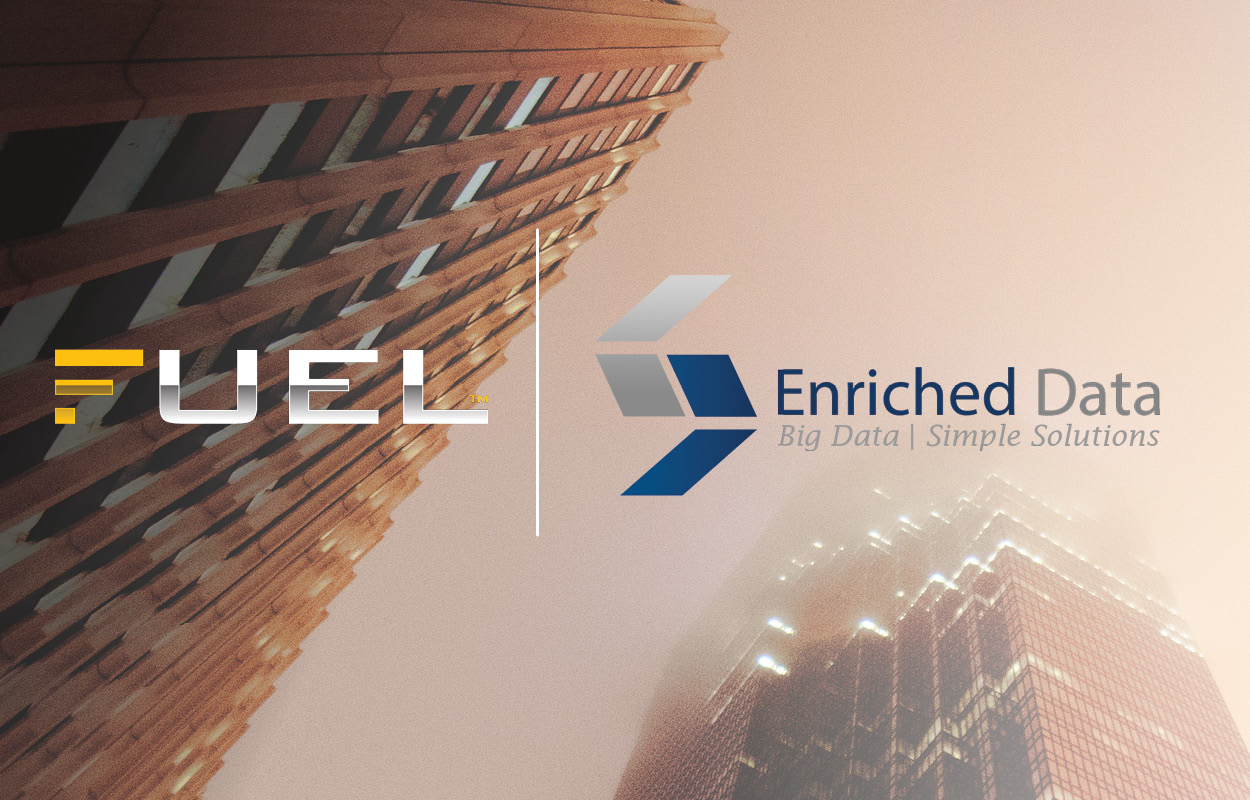 New York, March 11, 2019 – For commercial real estate (CRE) professionals, finding a way to combine property financials with other appraisal data without painstaking manual data entry has long been the Holy Grail. In a first-of-its-kind agreement, FUEL Enterprises and Enriched Data announced today a data integration partnership that makes that ideal a reality.
The agreement creates a two-way exchange of valuation and appraisal data from FUEL Valuation, the industry-leading CRE valuation platform, and Enriched Data, the country's largest provider of CRE data. As a result of the integration, users of the FUEL Valuation and Enriched Data platforms will gain unprecedented access to complete valuation and appraisal information without the need for multiple separate databases and manual data entry.
In the traditional transaction process, brokers, lenders, owners, investors and other parties involved in commercial investment property sales wait weeks—or longer—for valuation and appraisal reports to be completed through the tedious manual manipulation of spreadsheet data from multiple sources. Groundbreaking cloud-based software platforms like FUEL Valuation and Enriched Data are bringing automation, real-time data and more accurate reporting to the business of buying and selling commercial properties.
"Our data integration partnership with FUEL is a game-changer for the appraisal industry," said Michael L. Miller, MAI, Executive Managing Director, Enriched Data. "For the first time, commercial property appraisal professionals will be able to combine discounted cash flow data and other real-time valuation data using the single platform of Enriched Data with data from FUEL Enterprises. We're transforming commercial property investment sales and financing by taking labor-intensive data entry out of the process and cutting weeks out of the transaction lifecycle."
FUEL Enterprises was the logical data partner for Enriched Data, noted Miller, because of the quality and accuracy of the FUEL Valuation platform. "FUEL offers not only real-time data to complement our database, but also a user interface and toolset that is superior to other options in the marketplace. Our users now will be able to more quickly and efficiently assign workflows and share information to accelerate deal-making."
FUEL Valuation users will benefit as well, gaining access to Enriched Data's information pertaining to 45 million commercial properties nationwide.
"This integration is another major milestone by our team to eradicate manual labor, disconnected software, and other inefficiencies inherent in CRE," said Christopher Perry III, CEO, FUEL Enterprises. "By accessing Enriched Data's 45-plus million records through FUEL, transaction professionals now have more time to make deals and cultivate relationships because we've fixed the heavy lifting of underwriting."
The Enriched Data agreement follows numerous integration partnerships between FUEL Enterprises and other providers of CRE related software.
About Enriched Data
Enriched Data is the largest provider of commercial real estate data in the United States, delivered through the commercial real estate industry's only cloud-based property appraisal platform.
With a national database of more than 45 million searchable real estate records, Enriched Data's records include sales, rental and deeds of trust data for more than 80 percent of the country and the 50 largest U.S. cities. Enriched Data subscribers can compare and consolidate occupancy, rental rates, sales, mortgages, tenants, space availability, metropolitan and submarket reports, and contact information for more than 1 million commercial property owners, managers, brokers, lenders and occupiers in the marketplace. Visit Enriched Data to learn more.
About FUEL Enterprises
FUEL develops cloud-based technology platforms for commercial real estate. With a focus on valuation, forecasting and data. FUEL's solutions are intuitive, fast, accurate, collaborative, open and affordable. FUEL is a global company with offices in New York, Boston, Chicago, Los Angeles, Toronto, London, Sydney and Medellin. For the latest news from FUEL Enterprises, visit FUELcre.com or follow us on Twitter (@FUELcre) and LinkedIn.

Media Contact
Elise Szwajkowski
+1 914.330.9155
elise@akrete.com